Feb 18: Snowdrop
Snowdrop
February is a transitional month. A change from Winter to Spring, when those of us working nine to five can see light on our way to work, and if we are on starting blocks to leave when the hour hand shows us to finish our daily tasks, we can see a little bit of sunset on our way home.
To mark this transition, the snowdrops start to show their brave little heads, braving the frosty mornings to bring new life to the world.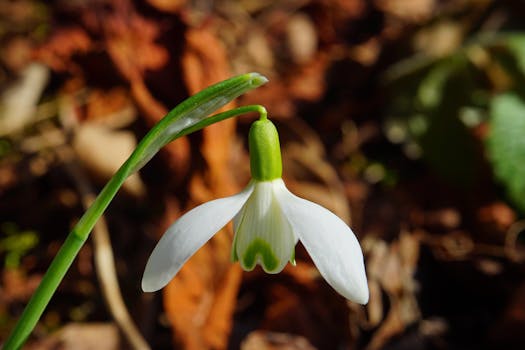 There is always something a little smug about a snowdrop. They show us simple beauty, but also remind us of our own mortality. While we have spent the year going on holidays, moving house, maintaining relationships and keeping our insurance and taxes up to date, the snowdrop has been sleeping. Yet here we are again in February and the snowdrop rises from the ground being its own pure self, just the same as last year. We beings are another year older and maybe have not worn the test of time as gracefully as this innocent white and tiny flower.
Maybe our lives have changed for the better, and we are happier than ever before in our lives, but will we still be the same next year?
The snowdrop will always remind us that the world will still turn, and the seasons will always change no matter how dull, fabulous, intolerable or comfortable our lives have been since they last made their appearance.
When you see a gathering of snowdrops, as they rarely stand alone, remember that this is a time to emerge and get the year well and truly started. Was it a snowdrop that whispered in William C Bryant's ear when he reminded the trees that "The February sunshine steeps your boughs and tints the buds and swells the leaf within."
By Susan G